Invitation to participate in the IX International Conference
published on
6. September 2018 - 16:42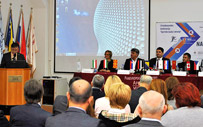 The Ninth International Conference on "Sports Science and Health" will be held on March 14 and 15, 2019, organized by the Pan-European University "Apeiron" Banja Luka and its members: College of Sports Management and Coaching and College of Health Care and Nursing.
The goal of this scientific conference is to define the impact of sport on human health. This Conference is intended for teachers of physical education, sports coaches, doctors, educators, psychologists, sports organizations, sports managers and other professionals related to sport and health.
For more information, please
visit this page
.