Conference
published on
3. February 2018 - 16:52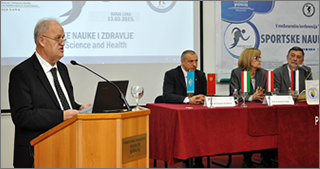 The Eighth International Conference on
"Sports Science and Health" will be held on March 16, 2018, organized by the Pan-European University "Apeiron" Banja Luka and its members: College of Sports Management and Coaching and College of Health Care and Nursing.
The goal of this scientific conference is to define the impact of sport on human health. This Conference is intended for teachers of physical education, sports coaches, doctors, educators, psychologists, sports organizations, sports managers and other professionals related to sport and health.
For more details please read:
"Invitation to participate in the VIII International Conference on "Sports Science and Health"
.
Vision
Sports science base their existence on the knowledge of fundamental scientific fields (biology, medicine, philosophy, history, physics, chemistry), but also on sociology, psychology, pedagogy, cybernetics, and other sciences. In addition to relying on these sciences, sport, primarily as a social, but also a biological phenomenon, has been developing into an independent science, which has not been defined completely yet, primarily because of its multidisciplinary character.
Mission
In order to define better a very important part of sports science – health and the impact of sport on human health- we came up with the idea to organize this scientific conference on "SPORTS SCIENCE AND HEALTH", which will make a concrete contribution to the efforts of sports and medicine to make people healthier and more able to live and work, and which will also make sports and recreational activities become their lifestyle.